Local information
The Methods XV conference will be held in the Academy building of the University of Groningen.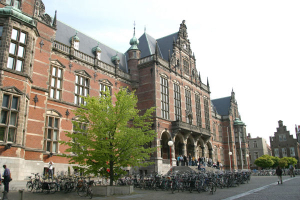 The Academy building
Travel
If you come from abroad, Groningen can be most easily reached by flying to Amsterdam (Schiphol airport), then taking the train from Schipol airport to Groningen.
Alternatively you may fly to Bremen airport (Germany) from where there is a direct bus connection to Groningen central station. Both the bus and the train take about 2.5 hours to reach Groningen. A description on how to get to the Academy building can be found here.
Tourist info
Information about things to see and do in Groningen can be found on the website of the city of Groningen.
Accommodation
The following list of hotels is roughly sorted by room prices (from budget to luxury).
The price ranges reported are purely indicative. For an exact and up to date price, please refer to the website of the hotel.
Legend for the price ranges:
€ = < 50 EUR
€€ = 51-100 EUR
€€€ = > 100 EUR
Bud Gett Hostel
Rademarkt 3-3A
9711 CS Groningen
Phone: +31(0)50 588 6558
E-mail: receptie@budgetthostels.nl
Price range: € (shared facilities, excluding breakfast; also double rooms available)
Pension Tivoli
Gedempte Zuiderdiep 67
9711 HC Groningen
Phone: +31(0)6 1254 4152
E-mail: info@pensiontivoli.nl
Price range: € (shared facilities)
Simplon Youth hotel
Boterdiep 73-2
9712 LL Groningen
Phone: +31(0)50 313 5221
Fax: +31(0)50 360 3139
E-mail: info@simplonjongerenhotel
Price range: € (shared facilities; also cheaper dorm rooms available)
Museum Guesthouse
Ubbo Emmiussingel 25
9711 BB Groningen
Phone: +31(0)50 313 6226
Phone (mobile): +31(0)6 4992 4690
E-mail: museumguesthouse@gmail.com
Price range: €
Hotel Friesland
Kleine Pelsterstraat 4
9711 KN Groningen
Phone: +31(050) 312 1307
Fax:+31(050) 312 1307
E-mail: info@hotelfriesland.nl
Price range: € (shared facilities)
University Hotel Groningen
Kleine Kromme Elleboog 7b
9712 BS Groningen
Phone.: +31(0)50 311 3424
Fax: +31(0)50 363 4100
E-mail: guesthouse@rug.nl
Price range: €€
Martini Hotel
Gedempte Zuiderdiep 8
9711 HG Groningen
Phone: +31(050) 312 9919
Fax: +31(050) 312 7904
E-mail: info@martinihotel.nl
Price range: €€
Hotel de Doelen
Grote Markt 36
9711 LV Groningen
Phone: +31(050) 312 7041
Fax: +31(050) 314 6112
E-mail: info@hotel-dedoelen.nl
Price range: €€
Hampshire City Hotel Groningen
Gedempte Kattendiep 25
9711 PM Groningen
Phone: +31(0)50 588 6565
Fax: +31(0)50 311 5100
E-mail: info.citygroningen@hampshire-hotels.com
Price range: €€
Schimmelpenninck Huys
Oosterstraat 53
9711 NR Groningen
Phone: +31(0)50 318 9502
Fax: +31(0)50 318 3164
E-mail: info@schimmelpenninckhuys.nl
Price range: €€€
Asgard Hotel
Ganzevoortsingel 2-1
9711 AL Groningen
Phone: +31(0)50 368 4810
Fax: +31(050) 318 8443
E-mail: info@asgardhotel.nl
Price range: €€€
Hampshire Hotel Groningen Centre
Radesingel 50
9711 EK Groningen
Phone: +31(0)50 316 2900
Fax: +31(050) 318 3166
E-mail: info@hampshire-groningen.nl
Price range: €€€
NH Groningen Hotel
Hanzeplein 132
9713 GW Groningen
Phone: +31(0)50 584 8181
Fax: +31(050) 584 8180
E-mail: nhgroningen@nh-hotels.com
Price range: €€€
Auberge "Corps de Garde"
Oude Boteringestraat 74
9712 GN Groningen
Phone: +31(0)50 314 5437
Fax: +31(0)50 313 6320
E-mail: info@corpsdegarde.nl
Price range: €€€
NH Hotel de Ville
Oude Boteringestraat 43 - 45
9712 GD Groningen
Phone: +31(0)50 318 1222
Fax: +31(0)50 318 1777
E-mail: nhhoteldeville@nh-hotels.com
Price range: €€€